PRODUCT INFORMATION
Diesel filter (recommended)
Diesel filter (recommended)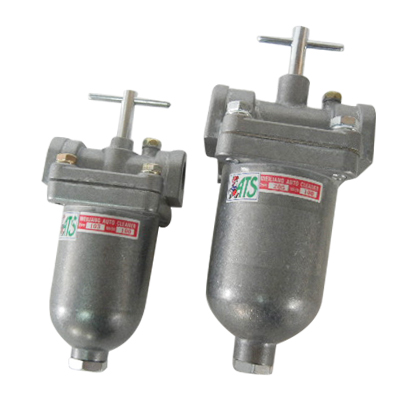 Diesel filter (recommended)
Taiwan ATS high quality
– Aluminum alloy shell with multi-level design inside which can be rotated manually
– Concentrated treatment of impurities, remove the bottom plug to remove
– Easy installation
This automatic oil filter is widely used in various types of work machines to clean the oil used in the work machine and maintain the performance of the work machine. It adopts SUS304 stainless steel filter plate, gap plate and sweeping plate. A plug is provided for removing filtered impurities.
The filter can be cleaned under the continuous operation of the machine, and it will not cause the reduction of the oil supply.
The size of the filter mesh, the strength of the pressure feeding force, the temperature and viscosity of the oil used will cause the change of the filter processing capacity.
This filter conveys oil by means of height difference, natural pressure and pump pressure. It enters through the inlet and then passes through the filter gap for purification, that is, the impurities in the used oil are cleaned and the clean oil is discharged from the outlet. When impurities accumulate and block the filter plate, the filter effect is reduced, and the function is restored by turning the handle to perform filter cleaning.
Filter meshes are divided into 60 meshes, 100 meshes, and 150 meshes; the inlet and outlet diameters are divided into 1/4PT, 3/8PT, 1/2PT, 3/4PT, 1″PT, 1 1/2″PT.
Taiwan ATS high quality product specification