PRODUCT INFORMATION
XLP ultra-low pressure pure water membrane (maximum energy saving type, 4040, 8040)
XLP ultra-low pressure pure water membrane (maximum energy saving type, 4040, 8040)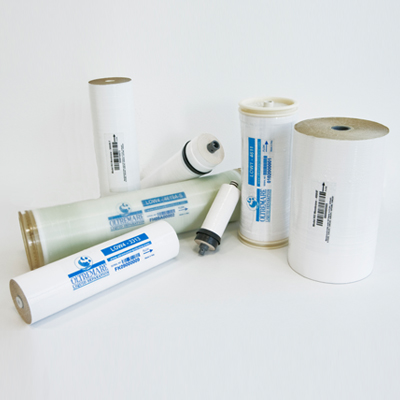 XLP ultra-low pressure pure water membrane (maximum energy saving type, 4040, 8040)
XLP series products are ultra-low pressure aromatic polyamide composite reverse osmosis membrane elements developed for high water flux requirements. It can meet the water production and desalination requirements of the membrane system under extremely low operating pressure. Its operating pressure is about 1/2 of the conventional low-pressure brackish water membrane, which can reduce the investment cost and system operating cost of the membrane system pipeline, pump and other equipment. ,Improve economic efficiency. It is mainly used in the desalination treatment of surface water, groundwater and municipal water with a salt content of less than 1000mg/L. Its application areas include purified water, packaged drinking water, secondary water supply for two-stage membrane systems, etc. It has the characteristics of low energy consumption, high water production, extremely low operating pressure and good desalination performance.
Manufacturer, excellent strength:
Introduced 美國 membrane production process and automated production line, with an annual production capacity of 3 million square meters of reverse osmosis membranes and nanofiltration membranes, the team has a strong and unique R&D innovation strength, and strong technical support can provide customers with industry customized solutions Solutions to meet the deep and multi-faceted needs of customers.
Quality Assurance, Superior Performance:
The entire production process of reverse osmosis membrane and nanofiltration membrane products is strictly implemented in accordance with ISO standards, and all products have been strictly tested by advanced testing equipment to ensure product performance and delivery quality.
International qualifications, identify products:
It has more than 30 international invention patents, and has fully passed the ISO9001 quality system and the national health and safety product certification of the national authoritative organization, and the 美國 National Health Foundation NSF certification.
Product Features:
– High water volume and high salt removal rate membrane
– Only two-thirds of the operating pressure of conventional reverse osmosis membranes is required to achieve the effect
– Effectively reduce the risk of damage to pumps, piping and membrane casings due to excessive pressure
– Significantly save maintenance costs and maintain high quality and efficiency
– Under low pressure operation, low pressure energy saving membrane still has high salt rejection
– Can be used in a variety of different industries
XLP series products are ultra-low pressure aromatic polyamide composite reverse osmosis membrane elements developed for high water flux requirements. It can meet the water production and desalination requirements of the membrane system under extremely low operating pressure. Its operating pressure is about 1/2 of the conventional low-pressure brackish water membrane, which can reduce the investment cost and system operating cost of the membrane system pipeline, pump and other equipment. ,Improve economic efficiency. It is mainly used in the desalination treatment of surface water, groundwater and municipal water with a salt content of less than 1000mg/L. Its application areas include purified water, packaged drinking water, secondary water supply for two-stage membrane systems, etc. It has the characteristics of low energy consumption, high water production, extremely low operating pressure and good desalination performance. Product Specifications
| | |
| --- | --- |
| structure | spiral wound |
| Membrane tube material | Composite Polyamide |
| Effective membrane area | 6ft² (0.6m²) |
| Water production | 150 gpd (0.57 m³/d) |
| Salt removal rate | 98.0 – 99.0 % |
| greatest pressure | Fiberglassed - 600 psi (41.4 bar), Tape Wrapped - 300 psi (20.7 bar) |
| pH range | 3.0-10.0 |
| certified | |
| | |
| --- | --- |
| structure | spiral wound |
| Membrane tube material | Composite Polyamide |
| Effective membrane area | 12ft² (1.1m²) |
| Water production | 350 gpd (1.3 m³/d) |
| Salt removal rate | 98.0 – 99.0 % |
| greatest pressure | Fiberglassed - 600 psi (41.4 bar), Tape Wrapped - 300 psi (20.7 bar) |
| pH range | 3.0-10.0 |
| certified | |
| | |
| --- | --- |
| structure | spiral wound |
| Membrane tube material | Composite Polyamide |
| Effective membrane area | 28ft² (2.6m²) |
| Water production | 800 gpd (3.0 m³/d) |
| Salt removal rate | 98.0 – 99.0 % |
| greatest pressure | Fiberglassed - 600 psi (41.4 bar), Tape Wrapped - 300 psi (20.7 bar) |
| pH range | 3.0-10.0 |
| certified | |
| | |
| --- | --- |
| structure | spiral wound |
| Membrane tube material | Composite Polyamide |
| Effective membrane area | 28ft² (2.6m²) |
| Water production | 800 gpd (3.0 m³/d) |
| Salt removal rate | 98.0 – 99.0 % |
| greatest pressure | Fiberglassed - 600 psi (41.4 bar), Tape Wrapped - 300 psi (20.7 bar) |
| pH range | 3.0-10.0 |
| certified | |
| | |
| --- | --- |
| structure | spiral wound |
| Membrane tube material | Composite Polyamide |
| Effective membrane area | 19ft² (1.8m²) |
| Water production | 500 gpd (1.89 m³/d) |
| Salt removal rate | 98.0 – 99.0 % |
| greatest pressure | Fiberglassed - 600 psi (41.4 bar), Tape Wrapped - 300 psi (20.7 bar) |
| pH range | 3.0-10.0 |
| certified | |
| | |
| --- | --- |
| structure | spiral wound |
| Membrane tube material | Composite Polyamide |
| Effective membrane area | 45ft² (4.2m²) |
| Water production | 1300 gpd (4.92 m³/d) |
| Salt removal rate | 98.0 – 99.0 % |
| greatest pressure | Tape Wrapped - 300 psi (20.7 bar) |
| pH range | 3.0-10.0 |
| certified | |
| | |
| --- | --- |
| structure | spiral wound |
| Membrane tube material | Composite Polyamide |
| Effective membrane area | 35ft² (3.2m²) |
| Water production | 1025 gpd (3.88 m³/d) |
| Salt removal rate | 98.0 – 99.0 % |
| greatest pressure | Fiberglassed - 600 psi (41.4 bar), Tape Wrapped - 300 psi (20.7 bar) |
| pH range | 3.0-10.0 |
| certified | |
| | |
| --- | --- |
| structure | spiral wound |
| Membrane tube material | Composite Polyamide |
| Effective membrane area | 105ft² (9.8m²) |
| Water production | 3100 gpd (11.7 m³/d) |
| Salt removal rate | 99.0 – 99.1% |
| greatest pressure | Tape Wrapped - 300 psi (20.7 bar) |
| pH range | 3.0-10.0 |
| certified | |
| | |
| --- | --- |
| structure | spiral wound |
| Membrane tube material | Composite Polyamide |
| Effective membrane area | 85ft² (7.9m²) |
| Water production | 2600 gpd (9.8 m³/d) |
| Salt removal rate | 99.0 – 99.2% |
| greatest pressure | Fiberglassed - 600 psi (41.4 bar), Tape Wrapped - 300 psi (20.7 bar) |
| pH range | 3.0-10.0 |
| certified | |
| | |
| --- | --- |
| structure | spiral wound |
| Membrane tube material | Composite Polyamide |
| Effective membrane area | 400ft² (37.2m²) |
| Water production | 12000 gpd (45.4 m³/d) |
| Salt removal rate | 99.0 – 99.2% |
| greatest pressure | 600 psi (41.4 bar) |
| pH range | 3.0-10.0 |
| certified | |
| | |
| --- | --- |
| structure | spiral wound |
| Membrane tube material | Composite Polyamide |
| Effective membrane area | 400ft² (37.2m²) |
| Water production | 12000 gpd (45.4 m³/d) |
| Salt removal rate | 99.0 – 99.2%/td> |
| greatest pressure | 600 psi (41.4 bar) |
| pH range | 3.0-10.0 |
| certified | |
| | |
| --- | --- |
| structure | spiral wound |
| Membrane tube material | Composite Polyamide |
| Effective membrane area | 440ft² (40.9m²) |
| Water production | 13200 gpd (45.4 m³/d) |
| Salt removal rate | 99.0 – 99.2%/td> |
| greatest pressure | 600 psi (41.4 bar) |
| pH range | 3.0-10.0 |
| certified | |