PRODUCT INFORMATION
XLFR Antifouling Film (Extreme Low Pressure, 4040, 8040)
XLFR Antifouling Film (Extreme Low Pressure, 4040, 8040)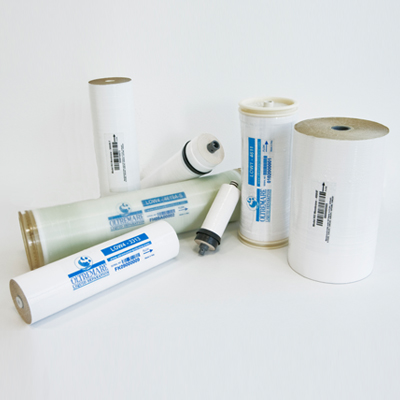 XLFR Antifouling Film (Extreme Low Pressure, 4040, 8040)
FR series products are anti-pollution aromatic polyamide composite reverse osmosis membrane elements developed for complex influent water conditions. This series adopts a special membrane manufacturing process, which improves the hydrophilicity, charge and roughness of the membrane, and reduces the growth and adsorption of pollutants and microorganisms on the membrane surface during the operation of the membrane element. The membrane element adopts a 34mil wide flow channel design, which reduces fouling and reduces the pressure difference of the membrane system, and is easy to clean, extending the service life of the membrane element. It is mainly used for desalination treatment of reclaimed water, reclaimed water, wastewater, RO concentrated water, etc. with a salt content of less than 8000mg/L. Its applications include electric power, steel, electroplating, petrochemical, coal chemical, printing and dyeing, municipal sewage and many other fields. It has the characteristics of good desalination performance, good cleaning recovery, and low pressure drop (the pressure difference between the inlet pressure of the pressure vessel and the concentrated water).
Manufacturer, excellent strength:
Introduced 美國 membrane production process and automated production line, with an annual production capacity of 3 million square meters of reverse osmosis membranes and nanofiltration membranes, the team has a strong and unique R&D innovation strength, and strong technical support can provide customers with industry customized solutions Solutions to meet the deep and multi-faceted needs of customers.
Quality Assurance, Superior Performance:
The entire production process of reverse osmosis membrane and nanofiltration membrane products is strictly implemented in accordance with ISO standards, and all products have been strictly tested by advanced testing equipment to ensure product performance and delivery quality.
International qualifications, identify products:
It has more than 30 international invention patents, and has fully passed the ISO9001 quality system and the national health and safety product certification of the national authoritative organization, and the 美國 National Health Foundation NSF certification.
Product Features:
– Made of special materials, the surface of the membrane tube is smooth
– Significantly reduces fouling rate and increases service life
– Highly effective anti-contamination and easy-to-clean properties
– Applied to the water supply end that is difficult to treat, such as: waste water treatment, waste water recycling, etc.
FR series products are anti-pollution aromatic polyamide composite reverse osmosis membrane elements developed for complex influent water conditions. This series adopts a special membrane manufacturing process, which improves the hydrophilicity, charge and roughness of the membrane, and reduces the growth and adsorption of pollutants and microorganisms on the membrane surface during the operation of the membrane element. The membrane element adopts a 34mil wide flow channel design, which reduces fouling and reduces the pressure difference of the membrane system, and is easy to clean, extending the service life of the membrane element. It is mainly used for desalination treatment of reclaimed water, reclaimed water, wastewater, RO concentrated water, etc. with a salt content of less than 8000mg/L. Its applications include electric power, steel, electroplating, petrochemical, coal chemical, printing and dyeing, municipal sewage and many other fields. It has the characteristics of good desalination performance, good cleaning recovery, and low pressure drop (the pressure difference between the inlet pressure of the pressure vessel and the concentrated water). Product Specifications
| | |
| --- | --- |
| structure | spiral wound |
| Membrane tube material | Composite Polyamide |
| Effective membrane area | 28ft² (2.6m²) |
| Water production | 650 gpd (2.5 m³/d) |
| Salt removal rate | 98.0 % and above |
| greatest pressure | Fiberglassed - 600 psi (41.4 bar), Tape Wrapped - 300 psi (20.7 bar) |
| pH range | 3.0-10.0 |
| certified | |
| | |
| --- | --- |
| structure | spiral wound |
| Membrane tube material | Composite Polyamide |
| Effective membrane area | 75ft² (7.0m²) |
| Water production | 2000 gpd (7.6 m³/d) |
| Salt removal rate | 99.0 – 99.4% |
| greatest pressure | Fiberglassed - 600 psi (41.4 bar), Tape Wrapped - 300 psi (20.7 bar) |
| pH range | 3.0-10.0 |
| certified | |
| | |
| --- | --- |
| structure | spiral wound |
| Membrane tube material | Composite Polyamide |
| Effective membrane area | 365ft² (34.0m²) |
| Water production | 9800 gpd (37.1 m³/d) |
| Salt removal rate | 99.0 – 99.5% |
| greatest pressure | 600 psi (41.4 bar) |
| pH range | 2.0-11.0 |
| certified | |