PRODUCT INFORMATION
WaveCyber membrane housing (8 inches, side-mounted)
WaveCyber membrane housing (8 inches, side-mounted)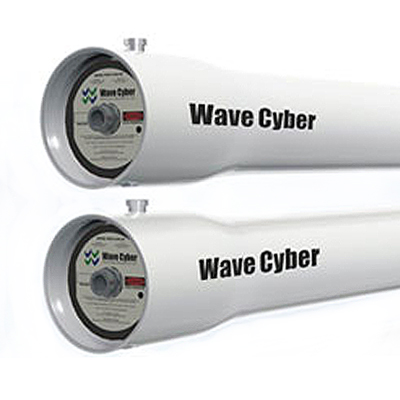 WaveCyber membrane housing (8 inches, side-mounted)
This membrane shell product is made of high-performance composite materials, which has the characteristics of high pressure resistance, corrosion resistance, and excellent insulation performance. It is the most commonly used pressure vessel for reverse osmosis membrane elements and can be widely used in municipal, petrochemical, and pharmaceutical industries. , food, water treatment and purification in the electronics industry and other fields. Relying on the advantages of structure and new composite material design and process technology, the membrane element pressure vessel produced by the company has been certified by 美國 Society of Mechanical Engineers (ASME) and 美國 National Sanitation Foundation (NSF) for many years.
Since its establishment in 2001, WaveCyber has developed and produced composite pressure tanks, membrane element pressure vessels, reverse osmosis membranes and membrane elements, nanofiltration membranes and membrane elements, as well as salt tank soft water tanks and other products; the core technologies are all derived from independent research and development , a deep understanding, insight, and layout of the future development direction of the industry. WaveCyber's three major categories of products constitute a complete industrial chain layout, which can be used in conjunction with downstream applications. Through diversified product strategies, the company's position in the upstream of the membrane industry chain is consolidated. The company's high-performance roll-type separation membrane products can be used in the fields of material concentration and separation (such as lithium extraction from salt lakes, life sciences, food, hydrogen energy, etc.), water treatment fields including industrial applications (semiconductor ultrapure water preparation, reclaimed water reuse, Zero discharge, etc.) and municipal applications (seawater/brackish water desalination, tap water upgrading, sewage treatment, etc.) and residential consumption upgrades (water softeners, water purifiers, whole-house water purification systems, etc.), are widely used, New materials for strategic emerging industries facing the frontier of science and technology and the national economy and people's livelihood.
There are mainly two models of end opening and side opening, which are divided into 3 specifications of 2.5 inches, 4 inches and 8 inches, and the applicable pressure covers 150, 300, 450, 600, 1000, 1200, 1500psi.
Product advantages:
The product has strong pressure bearing capacity and a wide range of applications, and is used in many large-scale engineering projects in the electric power, metallurgy, chemical, food and other industries at home and abroad.
本膜殼產品使用高性能複合材料製造,具有耐高壓、耐腐蝕的特點,並且擁有優良的絕緣性能,是最常用的裝載反滲透膜元件的壓力容器,可廣泛應用於市政、石油化工、醫藥、食品、電子行業的水處理與淨化等領域。憑藉結構和新型複合材料設計及工藝技術優勢,公司生產的膜元件壓力容器已連續多年獲得美國機械工程 師協會(ASME)、美國全國衛生基金會(NSF)認證。技術講解
| | |
| --- | --- |
| End plate type | Side Port Ordering Guide |
| Maximum withstand voltage | 300psi/20bar |
150psi~1200psi pressure type can be provided according to operating requirements