PRODUCT INFORMATION
UV Sterilizer (2 GPM)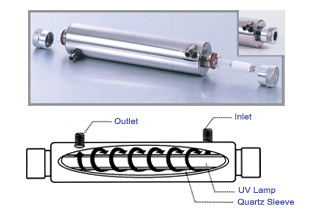 UV Sterilizer (2 GPM)
UV ultraviolet rays can kill 99.9% harmful bacteria and viruses, 2GPM stainless steel UV lamp group - suitable for use with home filters and beverage stores for sterilization, direct raw drinking is safe and reliable.
Principle of UV application
Ultraviolet rays are part of the sun's rays. The principle of using ultraviolet rays to sterilize is to use its physical characteristics. When the ultraviolet lamp tube emits a light beam with a wavelength of 254 nm, this light can instantly generate light with the DNA of the life center of single-celled organisms such as bacteria. The chemical reaction causes the bacteria to die or lose their ability to reproduce.
UV燈組的應用
有效-可有效殺死致病的細菌、病毒及藻類
經濟-燈管壽命長,單位使用成本低
安全-無任何殘留,無化學藥品添加
快速-不需額外的接觸時間,處理水一經UV即可使用
簡便-安裝簡單,維修容易且不佔空間
2GPM UV殺菌器規格:
1.容許流速:乾淨水:1.5Gpm/6Lpm
蒸餾水、逆滲透水:2Gpm/8Lpm
2.殺菌燈管型號:14W x 1(型號:GPH287T5L4)
3.石英管型號:UVQS18
4.燈管失效警告:LED 液晶顯示 + 蜂鳴警告
特性:
1.採用石英燈管及水套,紫外線穿透率更佳,殺菌效果更好。
2.安裝快速簡便。
3.使用壽命長,節省費用。
4.主體採用不銹鋼,加強紫外線的反射效果。
5.燈管失效時有蜂鳴指示。
6.最天然的淨水方式。
7.燈管更換及維護容易。
8.適用範圍廣泛,可使用在各種水的消毒殺菌上。
9.未添加任何化學添加物,不會改變水的味道,也不會去除水中有益的礦物質。
10.在正常的水質及流量下,可殺死99.9%有害的細菌及病毒。
※適用範圍廣泛,可使用在各種水的消毒殺菌上
應用說明
(1)安裝時先檢查燈管,插電時是否燈會亮,石英玻璃管完好無裂痕。
(2)紫外線殺菌器內的燈管壽命約9000小時,為確保殺菌功效,應於使用期限內換紫外線燈管(燈管仍舊亮著藍光,並不表示殺菌是有效的)。
(3)更換燈管時,必須先關閉電源,小心勿碰觸到石英玻璃管部份,以免玻璃碰易破裂。
(4)絕對禁止裸眼直視紫外線燈光源,以免眼睛受到傷害。
(5)變壓器插座單獨使用,避免一個插座多種用途,易造成因電壓不穩,燈管及壓器燒毀現象。
(6)除非使用於純水設備,否則請於使用後三個月時將石英管取出,檢查是否有結垢現象,作為日後固定清潔保養時間。
※清洗石英管表面結垢,可用中性肥皂加熱水清洗,或使用檸檬酸。鬆開兩側螺帽,可將石英管取出,重新裝回時,需將石英管表面污漬擦掉,以免影響紫外線照射。
Safe use range
1. Use pressure limit: 125psi.
2. Use temperature limit: 2℃-70℃.
3. The water source with dirty water will block the penetration ability of ultraviolet radiation. The clearer the water quality, the better the UV sterilization ability.