PRODUCT INFORMATION
SN Heat Disposable Film (4040, 8040)
SN Heat Disposable Film (4040, 8040)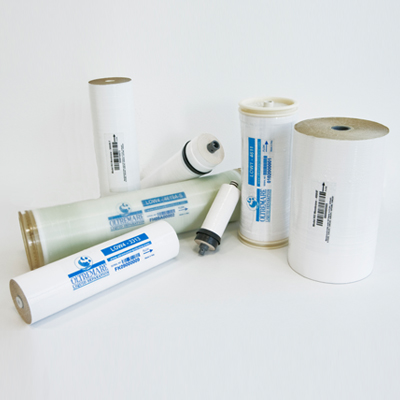 SN Heat Disposable Film (4040, 8040)
The development of pure water series products is widely used in low-pressure aromatic polyamide composite reverse osmosis membrane elements for desalination of surface water and groundwater. The product has a high water yield while the desalination rate is as high as 99.6%. Mainly used in desalination treatment of brackish water, surface water, groundwater, tap water, etc. with a salt content of less than 5000mg/L. Its application fields include the preparation of pure water in electronics, electric power, municipal drinking water, chemical industry, medicine, etc., and can also be used in projects such as wastewater reuse and concentration. It has the characteristics of good desalination performance, high water production and low operating pressure.
Manufacturer, excellent strength:
Introduced 美國 membrane production process and automated production line, with an annual production capacity of 3 million square meters of reverse osmosis membranes and nanofiltration membranes, the team has a strong and unique R&D innovation strength, and strong technical support can provide customers with industry customized solutions Solutions to meet the deep and multi-faceted needs of customers.
Quality Assurance, Superior Performance:
The entire production process of reverse osmosis membrane and nanofiltration membrane products is strictly implemented in accordance with ISO standards, and all products have been strictly tested by advanced testing equipment to ensure product performance and delivery quality.
International qualifications, identify products:
It has more than 30 international invention patents, and has fully passed the ISO9001 quality system and the national health and safety product certification of the national authoritative organization, and the 美國 National Health Foundation NSF certification.
Product Features:
– 提供特殊水質所需求使用之熱水或消毒製程
– 具有良好的熱度、消毒承受能力
– 適用於特殊衛生使用規範限制之產業。如:生物科技、醫療、製藥、化妝品等
純水系列產品的開發廣泛用於地表水和地下水脫鹽的低壓芳香聚酰胺複合反滲透膜元件。產品在脫鹽率高達99.6%的同時具備高產水量。主要應用於含鹽量5000mg/L以內的苦鹹水、地表水、地下水、自來水等的脫鹽處理。其應用領域包括電子、電力、市政飲用水、化工、醫藥等純水的製備,也可用於廢水回用、濃縮等項目。具有脫鹽性能好、產水量高、運行壓力低的特點。產品規格
| | |
| --- | --- |
| structure | 螺旋纏繞式(符合衛生規範)- (Sanitary spiral wound) |
| Membrane tube material | Composite Polyamide |
| Effective membrane area | 400ft² (37.2m²) |
| Water production | 12000 gpd (45.4 m³/d) |
| Salt removal rate | 99.0– 99.2 % |
| 最大消度溫度 | 185 °F (85 °C) |
| 最大消毒壓力 | 25 psi (1,7 bar) |
| greatest pressure | 600 psi (41.4 bar) |
| pH range | 3.0-10.0 |
| certified | |
| | |
| --- | --- |
| structure | 螺旋纏繞式(符合衛生規範)- (Sanitary spiral wound) |
| Membrane tube material | Composite Polyamide |
| Effective membrane area | 85ft² (7.9m²) |
| Water production | 2600 gpd (9.8 m³/d) |
| Salt removal rate | 99.0– 99.2 % |
| 最大消度溫度 | 185 °F (85 °C) |
| 最大消毒壓力 | 25 psi (1,7 bar) |
| greatest pressure | Fiberglassed-600 psi (41.4 bar) |
| pH range | 3.0-10.0 |
| certified | |