PRODUCT INFORMATION
RO pure water machine (household type 600G)
RO pure water machine (household type 600G)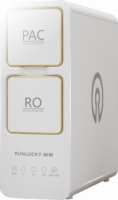 RO pure water machine (household type 600G)
In line with global trends and environmental trends, you and your family can enjoy a "safe, healthy and comfortable" water life. The company established a household department, adhering to the brand concept of "Your reliable life partner!", to provide you with whole-house water purification products that are close to the needs of "household water". The company independently develops a variety of appearance models, a total of 23 kinds of appearance designs, looking forward to dealers to call for details! 02-2331-1097
9 major features:
(1) TDS smart wastewater regulation function
Built-in TDS sensor, can regulate wastewater, reduce wastewater discharge and protect RO pure water membrane.
(2) No water tank, saving water and space
No water storage buckets, water tanks, lightweight, flexible installation, reduce the worry of bacterial growth, and enjoy ready-to-drink water at any time.
(3) High efficiency of pure water backwashing
Exclusive pure water backflow technology, the system detects that no water is produced, starts pure water backwashing the filter element, improves the filtration speed and quality, and prolongs and protects the life of the filter element.
(4) PAC carbon fiber composite filter element
The 3-in-1 filter element removes sediment impurities, residual chlorine, and improves the taste.
(5) 美國 Dow DOW pure water membrane
Accuracy up to 0.0001 microns, filtering bacteria viruses, heavy metals.
(6) Quick 3-second core change
Rotary horizontal extraction, fast, labor-saving, convenient, free of moving equipment, free of tools.
(7) One-piece patented design
Reduce joints, pipeline bends, eliminate pollution and reduce leakage
(8) Patented ceramic seal to lock water
The water circuit board and filter element use patented wear-resistant ceramic sealing sheet to lock water leakage
(9) Smart leak detection
Leak-proof system is the ultimate goalkeeper, protecting equipment operation