PRODUCT INFORMATION
Pulsafeeder diaphragm dosing pump (type 100-150)
Pulsafeeder diaphragm dosing pump (type 100-150)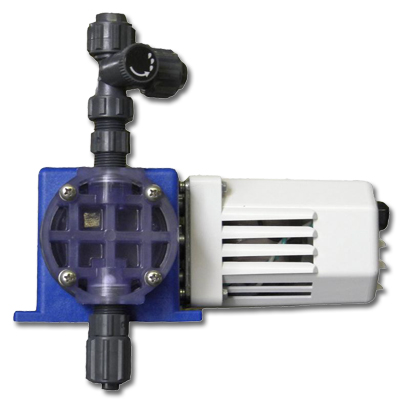 Pulsafeeder diaphragm dosing pump (type 100-150)
Quantitative pump (pump) / dosing machine: Diaphragm metering pump is a kind of reciprocating pump, which is developed by using the characteristics of fixed flow of reciprocating pump. Install a diaphragm between it and the liquid-contacting end, and use oil pressure to build pressure. It is characterized by high precision, no matter when the pump is stationary or running, the stroke length can be continuously adjusted within the range of 0%-100%, which is suitable for various fluid and pressure conditions. Diaphragm quantitative pumps are widely used in various industrial processes such as petrochemical, chemical, electric power, water treatment, and pharmaceuticals to quantitatively transport various chemical additives.
美國 Pulsafeeder company was founded in 1936, with the latest and most advanced technology to manufacture all kinds of acid and alkali resistant pumps, to meet the needs of fuel cells, solar energy systems, circuit board equipment, chemical industry, surface treatment industry, food industry, medical equipment, photo processing Ultra-clean pump required for photoresist coating, developing, stripping and etching cleaning processes such as water treatment equipment, plant factories, optoelectronic semiconductor manufacturing processes and packaging. Although the quality is already in the leading position in the world, Pulsafeeder is constantly developing a new generation of products to respond.
Established in 1976, 瑞順 Enterprise Co., Ltd. is the Taiwan general agent of American Pulsafeeder Inc. products. It has been providing high-quality pumps (pumps) for 50 years to ensure customers work safety, clean environment and save energy. In addition to the Taipei head office, 瑞順 also has service locations and parts warehouses in Changhua and the southern region, which can instantly meet customer needs.
motor driven:
Electric-motor-diaphragm metering pumps operate reliably under extremely harsh conditions without any intervention: Metering pumps equipped with mechanically deflected diaphragms are almost universal in low-pressure applications. Repair fees? minimize. Accuracy? not a problem. Cost-effective? Highest.
Questions about settings:
The metering flow of the pump can be adjusted via the stroke length and the stroke frequency (in this case the motor speed). The rotary motion of the motor is decelerated by a worm gear and converted into a linear stroke motion by an eccentric roller. The push rod transmits this stroke motion to the metering diaphragm in the metering head. Two non-return valves are used to prevent backflow of the dosing medium during the pumping process.
Motor diaphragm metering pumps are suitable for:
• Dosing chemicals (dosing flow up to 1,000 l/h)
• Metering of disinfectants in drinking water treatment applications
• Metering of disinfectant in the cooling cycle
• Metering of coagulants in wastewater purification applications
• Dosing additives in the paper industry
• Dosing additives in plastic production applications
Compelling economic benefits:
The power range is very wide. In addition, the metering accuracy is extremely high, even under unstable pressure conditions (compressive rigidity characteristic curve). In this way, chemicals are saved and the process is precisely controlled. Need to reach higher power levels? Pumps of this type always feature robust and affordable drives. Flexibility at the same time: The metering flow of the pump can be controlled by means of stroke length and motor speed adjustment, allowing the pump to be perfectly integrated and/or retrofitted into automated processes. Energy consumption depends on power demand, not vice versa. Last but not least, a purpose-built metering curve enables optimal metering results.
Optional:
Multi-layer safety diaphragm with diaphragm rupture indication for maximum safety. In addition, there is an overload interrupt device to protect the pump.
Features:
– The shell is made of strong acid and alkali resistant material, which is the first choice for economical type
– Diaphragm is integrally formed in Hypalon elastomer
– Suction and discharge check valve, easy to disassemble for easy removal
– The dosing amount can be controlled by manually adjusting the stroke length of the diaphragm, and the dosing frequency is fixed
– The transparent PVC pump head can see the dosing status, and the motor has a long service life
Quantitative pump (pump) / dosing machine: Diaphragm metering pump is a kind of reciprocating pump, which is developed by using the characteristics of fixed flow of reciprocating pump. Install a diaphragm between it and the liquid-contacting end, and use oil pressure to build pressure. It is characterized by high precision, no matter when the pump is stationary or running, the stroke length can be continuously adjusted within the range of 0%-100%, which is suitable for various fluid and pressure conditions. Diaphragm quantitative pumps are widely used in various industrial processes such as petrochemical, chemical, electric power, water treatment, and pharmaceuticals to quantitatively transport various chemical additives. Technical explanation
| | |
| --- | --- |
| maximum dosage | 100GPD (15.76LPH) |
| maximum discharge pressure | 7 Bar |
| power supply | Single-phase AC 115V 60Hz, 230V 60Hz, 230V 50Hz |
| Wetted material | Provide PVC, PP, 316SS options |
| Usable maximum viscosity | 300 CPS |