PRODUCT INFORMATION
Pulsafeeder Hose Dosing Pump (Type 2400T)
Pulsafeeder Hose Dosing Pump (Type 2400T)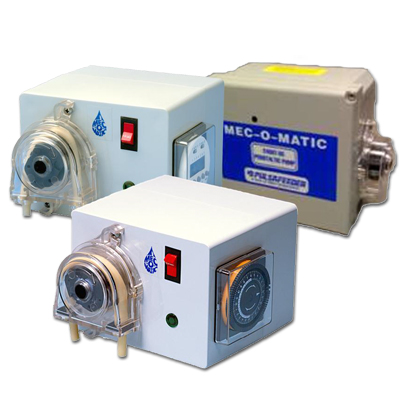 Pulsafeeder Hose Dosing Pump (Type 2400T)
Dosing pump (pump)/dosing machine: Two shoe blocks, mounted on a rotating wheel at a 180° angle, squeeze in turn the fluid to be pumped in the rubber hose. The squeezing of the hose by the rotating shoe creates continuous suction at the pump inlet and pushes the fluid towards the pump outlet. The pump casing contains a lubricant that reduces friction and ensures optimum pump performance with minimal maintenance. The transported liquid is only in contact with the inside of the rubber hose, so a variety of reactive fluids can be transported.
美國 Pulsafeeder company was founded in 1936, with the latest and most advanced technology to manufacture all kinds of acid and alkali resistant pumps, to meet the needs of fuel cells, solar energy systems, circuit board equipment, chemical industry, surface treatment industry, food industry, medical equipment, photo processing Ultra-clean pump required for photoresist coating, developing, stripping and etching cleaning processes such as water treatment equipment, plant factories, optoelectronic semiconductor manufacturing processes and packaging. Although the quality is already in the leading position in the world, Pulsafeeder is constantly developing a new generation of products to respond.
Established in 1976, 瑞順 Enterprise Co., Ltd. is the Taiwan general agent of American Pulsafeeder Inc. products. It has been providing high-quality pumps (pumps) for 50 years to ensure customers work safety, clean environment and save energy. In addition to the Taipei head office, 瑞順 also has service locations and parts warehouses in Changhua and the southern region, which can instantly meet customer needs.
Its performance is as follows:
軟管計量泵的使用流量範圍爲 10 ml/h 至 410 l/h。使用期間,它們可承受高達 8 bar 的壓力。pulsafeeder 所使用的大流量軟管因其尤其出色的耐用度和廣泛的化學兼容性而令人信服。
It works as follows:
The hose, which rests on the housing, is clamped by means of a roller on the rotor. The rotational movement of the rotor moves the clamping position in the desired conveying direction of the conveying medium. When the rollers press the medium through the hose into the metering head, the hose is released again. The hose that is erected again creates a low pressure, which draws clean medium into the hose. By increasing the rotor speed, the delivery volume can be increased linearly.
Application:
• Sewage purification: metering of highly viscous media/polymer solutions
• Drinking water treatment: metered disinfectant
• Food industry: shear-sensitive media, flavors, additives
• Paper industry: dosing additives
• Cooling cycle: metering of anti-corrosion and antimicrobial agents
• Plastic production: dosing additives
• In general: chemical dosing up to 410 l/h
• Capable of conveying suspended solids commonly found in the following industries: paints, dairy and beverages, meat and fish processing, pharmaceuticals and cosmetics, wastewater and water treatment, chemical and petrochemical industries, pulp and paper, textiles, soaps and fats, construction, ceramics .
Special features:
Pulsafeeder 軟管計量泵完美融合了軟管泵和計量泵的優點。所以他們支持,例如:批量或按比例加藥。根據介質的不同,計量精確度可達 ±1 %。它們的工作方式與我們的其他計量泵一樣可靠,采用自吸方式且沒有排氣介質的問題。得益于精益的換管過程,它們能在最短時間內,以最少的材料投入而完成。
feature of product:
– 低加藥量專用加藥機,易安裝低維護性
– 高強度Viton蠕動加藥管,適合長期或經常加藥使用
– 有導熱或阻抗的齒輪馬達可以安心使用
– 自行潤滑抗化學藥性的滾輪組合件
– 2400T附24小時機械計時器
– 2400T plus及2400T-DC配備1個7天8事件可程式計時器
Dosing pump (pump)/dosing machine: Two shoe blocks, mounted on a rotating wheel at a 180° angle, squeeze in turn the fluid to be pumped in the rubber hose. The squeezing of the hose by the rotating shoe creates continuous suction at the pump inlet and pushes the fluid towards the pump outlet. The pump casing contains a lubricant that reduces friction and ensures optimum pump performance with minimal maintenance. The transported liquid is only in contact with the inside of the rubber hose, so a variety of reactive fluids can be transported. Technical explanation
| | |
| --- | --- |
| maximum dosage | 2.5GPD (0.39LPH) |
| maximum discharge pressure | 25PSI (1.72 Bar) |
| power supply | 單相 12VDC、120V 60Hz |
| Peristaltic tube material | 提供Norprene、Viton選擇 |
ON/OFF開關提供快速安全的啟動跟方便性