PRODUCT INFORMATION
NF Nanofiltration Membrane (High Water Type, 4040, 8040) (Applicable to: Mineral Water, Water Filling Station)
NF Nanofiltration Membrane (High Water Type, 4040, 8040) (Applicable to: Mineral Water, Water Filling Station)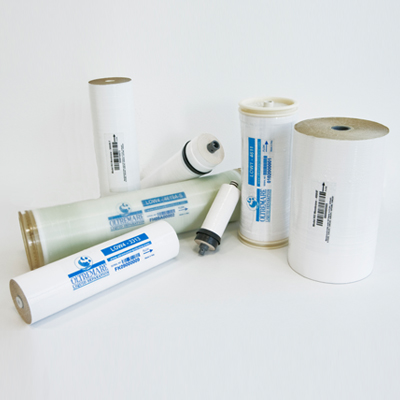 NF Nanofiltration Membrane (High Water Type, 4040, 8040) (Applicable to: Mineral Water, Water Filling Station)
NF series products are polypiperazine composite nanofiltration membrane elements with selective separation characteristics. It has a high removal rate for almost all bacteria, viruses, microorganisms, macromolecular organics, antibiotics, pesticides, pesticide residues and other small molecular organics, heavy metals and most divalent and above ions in water or solution, while retaining part of sodium , potassium, calcium, magnesium, metasilicic acid and other beneficial nutritional minerals and small molecular substances. It can be used for the preparation of direct drinking water, mineral water and softened water, partial desalination and decolorization of wastewater with high salt concentration and organic matter concentration, and separation and purification of some inorganic salts, organic matter and other materials. Nanofiltration series products have extremely low operating pressure, which can greatly save the operating cost of equipment or systems, and are widely used in drinking water, food and beverage, medicine, reclaimed water reuse, wastewater treatment and other industries.
Manufacturer, excellent strength:
Introduced 美國 membrane production process and automated production line, with an annual production capacity of 3 million square meters of reverse osmosis membranes and nanofiltration membranes, the team has a strong and unique R&D innovation strength, and strong technical support can provide customers with industry customized solutions Solutions to meet the deep and multi-faceted needs of customers.
Quality Assurance, Superior Performance:
The entire production process of reverse osmosis membrane and nanofiltration membrane products is strictly implemented in accordance with ISO standards, and all products have been strictly tested by advanced testing equipment to ensure product performance and delivery quality.
International qualifications, identify products:
It has more than 30 international invention patents, and has fully passed the ISO9001 quality system and the national health and safety product certification of the national authoritative organization, and the 美國 National Health Foundation NSF certification.
Product Features:
– High filtration bacteria and low salt removal rate
– Between ultrafiltration membranes (UF) and reverse osmosis membranes (RO)
– Can be used to block molecules with molecular weights less than 20,000 and even as small as 100.
– It can remove magnesium, calcium and other ions from river water, well water and rainwater.
– Can be used for industrial cooling water recycling, seawater desalination, softening, dye desalination, fruit juice and wine filtration, whey protein recovery, pharmaceutical concentration, etc.
NF series products are polypiperazine composite nanofiltration membrane elements with selective separation characteristics. It has a high removal rate for almost all bacteria, viruses, microorganisms, macromolecular organics, antibiotics, pesticides, pesticide residues and other small molecular organics, heavy metals and most divalent and above ions in water or solution, while retaining part of sodium , potassium, calcium, magnesium, metasilicic acid and other beneficial nutritional minerals and small molecular substances. It can be used for the preparation of direct drinking water, mineral water and softened water, partial desalination and decolorization of wastewater with high salt concentration and organic matter concentration, and separation and purification of some inorganic salts, organic matter and other materials. Nanofiltration series products have extremely low operating pressure, which can greatly save the operating cost of equipment or systems, and are widely used in drinking water, food and beverage, medicine, reclaimed water reuse, wastewater treatment and other industries. Product Specifications
| | |
| --- | --- |
| structure | spiral wound |
| Membrane tube material | Composite Polyamide |
| Effective membrane area | 28ft² (2.6m²) |
| Water production | Magnesium Sulfate MgSO4- 850 gpd, Sodium Chloride NaCl- 1020 gpd |
| Salt removal rate | Magnesium Sulfate MgSO4 is greater than 97%, Sodium Chloride NaCl is 45 – 55 % |
| greatest pressure | Fiberglassed - 600 psi (41.4 bar), Tape Wrapped - 300 psi (20.7 bar) |
| pH range | 3.0-10.0 |
| certified | |
| | |
| --- | --- |
| structure | spiral wound |
| Membrane tube material | Composite Polyamide |
| Effective membrane area | 35ft² (3.2m² ) |
| Water production | 1050 gpd |
| Salt removal rate | >97% |
| greatest pressure | Fiberglassed - 600 psi (41.4 bar), Tape Wrapped - 300 psi (20.7 bar) |
| pH range | 3.0-10.0 |
| certified | |
| | |
| --- | --- |
| structure | spiral wound |
| Membrane tube material | Composite Polyamide |
| Effective membrane area | 85ft² (7.9m² ) |
| Water production | Magnesium Sulfate MgSO4- 2500 gpd, Sodium Chloride NaCl- 3000 gpd |
| Salt removal rate | Magnesium Sulfate MgSO4 is greater than 97%, Sodium Chloride NaCl is 45 – 55 % |
| greatest pressure | Fiberglassed - 600 psi (41.4 bar), Tape Wrapped - 300 psi (20.7 bar) |
| pH range | 3.0-10.0 |
| certified | |
| | |
| --- | --- |
| structure | spiral wound |
| Membrane tube material | Composite Polyamide |
| Effective membrane area | 400ft² (37.2m² ) |
| Water production | Magnesium Sulfate MgSO4- 12500 gpd, Sodium Chloride NaCl- 15000 gpd |
| Salt removal rate | Magnesium Sulfate MgSO4 is greater than 97%, Sodium Chloride NaCl is 45 – 55 % |
| greatest pressure | 600 psi (41.4 bar) |
| pH range | 3.0-10.0 |
| certified | |