PRODUCT INFORMATION
MX-2 mixed bed resin (anion and cation mixed, 美國 NSF certified)
MX-2 mixed bed resin (anion and cation mixed, 美國 NSF certified)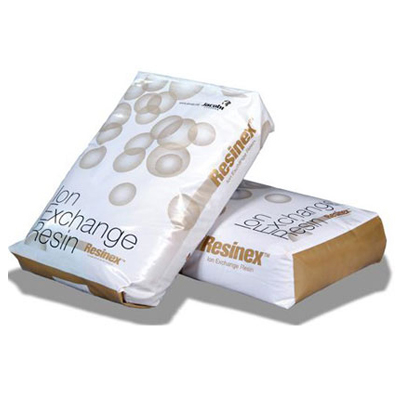 MX-2 mixed bed resin (anion and cation mixed, 美國 NSF certified)
MX-2 is a mixed bed ion exchange resin specially designed for the production of pure water (demineralized water) ready to use (Reday-to-Use). MX-2 is made by mixing KW-8 and A-4 resins in a volume ratio of 1:1.5. Operation provides very low outlet conductivity, less than 0.1 uS/cm. Excellent operating performance can bring you greater product advantages. Under the 1-row functional group technology of anionic compounds, it can ensure the provision of high-purity pure water without silica.
Features:
– High particle spherical integrity: excellent mechanical wear resistance, ensuring low pressure drop.
– High job exchange performance: economic cost advantage.
– Low conductivity leakage: Conductivity leakage is less than < 0.1 uS/cm and can be used in all standard mixed bed systems.
– Single-use, ready-to-use mixed bed resins specifically designed for complete desalination
– Composed of Resinex™ KW8 and Resinex™ A4 resins mixed at a ratio of 1:1.5
– Operation provides very low outlet conductivity, less than 0.1 μS/cm
– Suitable for industries that require post-desalination polishing, laboratory desalination and various deionized water needs
Applications:
– Desalination (pure hydration) post-polishing treatment
– Laboratory pure water production
– Mixed bed resin system equipment
MX-2 is a mixed bed ion exchange resin specially designed for the production of pure water (demineralized water) ready to use (Reday-to-Use). MX-2 is made by mixing KW-8 and A-4 resins in a volume ratio of 1:1.5. Operation provides very low outlet conductivity, less than 0.1 uS/cm. Excellent operating performance can bring you greater product advantages. Under the 1-row functional group technology of anionic compounds, it can ensure the provision of high-purity pure water without silica. Technical explanation
functional group
Sulfonic acid group / Ammonium salt group
ionic form
H/OH type
total exchange
Cation > 0.85eq/L min
Anion> 0.65eq/L min
granularity
0.42 – 1.25mm
Volume change
Regen → Depleted: Max 15 %