PRODUCT INFORMATION
Etatron diaphragm quantitative pump (DLXB type)
Etatron diaphragm quantitative pump (DLXB type)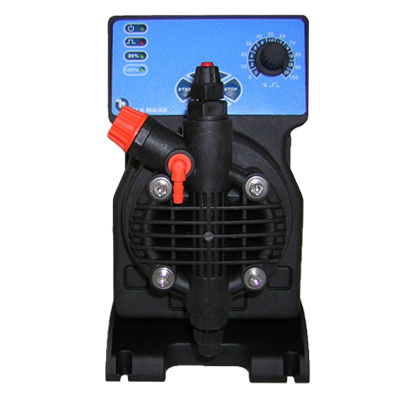 Etatron diaphragm quantitative pump (DLXB type)
Dosing Pump (Pump) / Dosing Machine: A magnet moves the magnetic axis forward and backward by switching on and off. This stroke motion is transmitted to the metering diaphragm in the metering head. Two non-return valves are used to prevent backflow of the dosing medium during the pumping process. But that's not all: the metering flow of the Pulsafeeder electromagnetic diaphragm metering pump can be precisely adjusted via stroke length and stroke frequency.
Its performance is as follows:
Electromagnetic diaphragm metering pumps are suitable for a power range of 0.74 – 80 l/h (back pressure 25 – 2 bar). To ensure that almost all liquid chemicals can be metered, Pulsafeeder offers an extremely wide selection of materials.
Application:
• In general: chemical dosing range from 1 ml/h to 80 l/h
• Drinking water treatment: metered disinfectant
• Cooling cycle: metering of anti-corrosion and antimicrobial agents
• Sewage purification: metering of coagulants
• Paper industry: dosing additives
• Plastic production: dosing additives
product advantages:
Since there is only one moving part in the application, the drive is virtually wear-free. The pump does not need to lubricate the bearings or lubricate the shaft; maintenance and repair costs are thus significantly reduced. The continuous operation characteristics are excellent.
feature of product:
– The shell is made of strong acid and alkali resistant material, with high protection level
– All Teflon diaphragms do not need to worry about traditional diaphragm breakage
– Special duckbill valve type check valve is set for suction and discharge, which is easy to disassemble and easy to remove
– Dosing amount can be manually adjusted by frequency control
– START/STOP switch, 0-20% or 0-100% frequency key,
Stroke frequency adjustment button (0-100% adjustable)
Dosing Pump (Pump) / Dosing Machine: A magnet moves the magnetic axis forward and backward by switching on and off. This stroke motion is transmitted to the metering diaphragm in the metering head. Two non-return valves are used to prevent backflow of the dosing medium during the pumping process. But that's not all: the metering flow of Pulsafeeder electromagnetic diaphragm metering pumps can be precisely adjusted via stroke length and stroke frequency. Technical explanation
| | |
| --- | --- |
| Dosage | 1 to 20 L/Hr |
| spit out pressure | 15 to 3 Bar |
| power supply | Single phase AC 230V 50/60Hz |
| Wetted material | Provide PP, PVDF options |
| shell | IP65 rating |