PRODUCT INFORMATION
Etatron hose type quantitative pump (BH3-V type)
Etatron hose type quantitative pump (BH3-V type)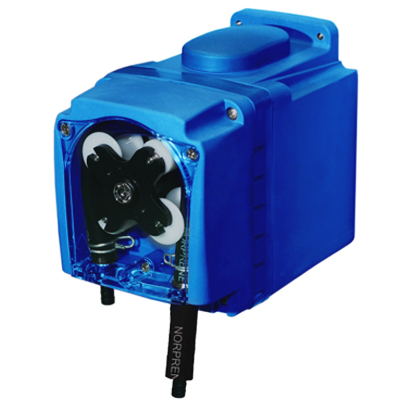 Etatron hose type quantitative pump (BH3-V type)
Dosing pump (pump)/dosing machine: Two shoe blocks, mounted on a rotating wheel at a 180° angle, squeeze in turn the fluid to be pumped in the rubber hose. The squeezing of the hose by the rotating shoe creates continuous suction at the pump inlet and pushes the fluid towards the pump outlet. The pump casing contains a lubricant that reduces friction and ensures optimum pump performance with minimal maintenance. The transported liquid is only in contact with the inside of the rubber hose, so a variety of reactive fluids can be transported.
It works as follows:
The hose, which rests on the housing, is clamped by means of a roller on the rotor. The rotational movement of the rotor moves the clamping position in the desired conveying direction of the conveying medium. When the rollers press the medium through the hose into the metering head, the hose is released again. The hose that is erected again creates a low pressure, which draws clean medium into the hose. By increasing the rotor speed, the delivery volume can be increased linearly.
Application:
• Sewage purification: metering of highly viscous media/polymer solutions
• Drinking water treatment: metered disinfectant
• Food industry: shear-sensitive media, flavors, additives
• Paper industry: dosing additives
• Cooling cycle: metering of anti-corrosion and antimicrobial agents
• Plastic production: dosing additives
• In general: chemical dosing up to 410 l/h
• Capable of conveying suspended solids commonly found in the following industries: paints, dairy and beverages, meat and fish processing, pharmaceuticals and cosmetics, wastewater and water treatment, chemical and petrochemical industries, pulp and paper, textiles, soaps and fats, construction, ceramics .
Special features:
– Lightweight and less fever, suitable for long-term or frequent dosing
Dosing pump (pump)/dosing machine: Two shoe blocks, mounted on a rotating wheel at a 180° angle, squeeze in turn the fluid to be pumped in the rubber hose. The squeezing of the hose by the rotating shoe creates continuous suction at the pump inlet and pushes the fluid towards the pump outlet. The pump casing contains a lubricant that reduces friction and ensures optimum pump performance with minimal maintenance. The transported liquid is only in contact with the inside of the rubber hose, so a variety of reactive fluids can be transported. Technical explanation
| | |
| --- | --- |
| Dosage | 100LPH |
| spit out pressure | 1 bar |
| power supply | Single phase AC 90-260V 50/60Hz |
| shell | IP65 rating |