PRODUCT INFORMATION
Clark CLACK Flow Type Control Valve Head (WS2-Blue Light)
Clark CLACK Flow Type Control Valve Head (WS2-Blue Light)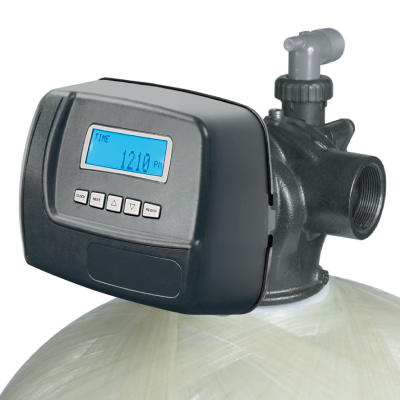 Clark CLACK Flow Type Control Valve Head (WS2-Blue Light)
美國CLACK flow type control valve WSl-blue light, LCD screen display, regeneration mode can be set according to the flow rate and regeneration time can be set freely, it is most suitable for use in water softeners, can effectively save salt consumption, the upper type has 1", 1.5", 2" Three calibers are available.
美國 CLACK Founded in 1946 in 美國 Wisconsin, CLACK is a world leader in the production of water treatment equipment. Novel design, LCD touch setting, filtered water flow to control the regeneration schedule, effectively saving salt consumption.
feature of product:
– Easy-to-operate panel for easy input of settings into EEPROM microprocessor memory.
– Regeneration mode after flow setting: Immediate regeneration, Delay to set time regeneration, Scheduled time regeneration.
– The water quality unit can be set: PPM, legal unit, German standard unit, or volume measurement.
– Extensive date setting, standard mode 1~99 days or select 7 days a week mode.
– 9 modes provide complete programming regeneration cycle mode.
– The regeneration time can be freely set.
– 1~28 days stop regeneration setting.
– 6″~30″ diameter FRP drums can be used.
– Selectable regeneration mode: forward regeneration or reverse regeneration.
– Reproduction and operation data are stored in erasable memory.
– 2-hour power outage storage capacity.
– Transformer 12V power output for convenient and safe installation.
– Different valve designs provide optimum filtration and backwash flow.
– Use filtered water as make-up water.
– Optional mixture valve.
– Low salt alert.
– 24-hour time setting.
– Use safe and stable DC power control.
– Built-in high-tech microcomputer processor, with excellent operating function performance.
– Electronic LCD panel, easy to view various setting parameters and historical data.
– A variety of cyclic regeneration modes are designed, which can be selected according to the actual operation requirements of the site.
– Suitable for softening regeneration (resin) or pretreatment filtration (various filter media).
– Can be connected to up to 4-tank systems; installation can be divided into top and side installations.
– 美國 CLACK control valve head, with the backwashing and backwashing functions of the built-in filter material in the tank, is widely used, and there are various specifications of components for combined use.
美國CLACK flow type control valve WSl-blue light, LCD screen display, regeneration mode can be set according to the flow rate and regeneration time can be set freely, it is most suitable for use in water softeners, can effectively save salt consumption, the upper type has 1", 1.5", 2" Three calibers are available. Technical explanation
Operation function
• Can be set- wet salt storage or dry salt storage (to prevent and avoid contamination of saturated brine and breeding of bacteria)
• Can be set - forward regeneration or reverse regeneration (according to customer purchase model)
• Programmable - flow regeneration or time regeneration (28 days or 7 days)
• Can be programmed - one-time backwash or two-time backwash (improve flushing effect)
• Programmable - regenerates the length of time for each stage
• Programmable - Programmable lock password
• Programmable ‐ automatically reminds the user for routine maintenance when the time is up or the flow rate is up
• Programmable - The screen automatically displays the service phone number when an error occurs in the control valve or when the user is automatically reminded of routine maintenance
• Normal screen display: current time, real-time flow, remaining flow to next regeneration, remaining days to next regeneration
• Use soft water to replenish water throughout the process to prevent the pollution of the salt tank and salt water from affecting the regeneration efficiency
• JS control valve solid-state microprocessor, self-scanning and diagnosing local software and hardware status at any time, automatic warning and preventing errors
4 modes of start-up regeneration
1. Regenerate when the flow is up, 2. Regenerate when the time is up, 3. Regenerate when the pressure difference is up, 4. Start the regeneration when it senses no water
Water extraction
(@15 psi differential pressure)
About 26.1 tons per hour (maximum flow)
Backwash amount
(@25 psi differential pressure)
About 18.2 tons per hour (maximum flow)
Regeneration days cycle range
Choose from:
• 1 – 28 days (recurring)
• Monday to Sunday (any number of days)
Applicable bucket
Can be used for up to 48" diameter drums, the largest in the industry
time memory
The control valve contains a lithium coin cell battery (which can continue to operate for a day in the event of a power failure)
Hardware advantage
• Solid-state microprocessor (program settings and historical records will be permanently stored in solid-state memory to prevent loss of settings and records due to power failure)
• Silicone soft-touch keys (Silicone material enhances high endurance and high-quality touch)
• The latest LED blue backlight energy saving screen (when the device is placed in a bright or dark place, the screen text can be clearly displayed)
• 美國 printed circuit board (two sets of relays are designed to provide two sets of signal outputs, and one set of external control signal dP contacts)
• Two sets of relay design (can provide multiple types of signal output, such as: alarm, control peripheral equipment)
• External control signal dP contact (can accept external signal to control: immediate regeneration, delayed regeneration, alternate regeneration)
• The latest UL/CSA power adapter (power voltage 100-240VAC / 50-60Hz, output voltage 15VDC / 500mA)
• JS control valve can choose 1, 1.5, 2 inch (6 ~ 48 inch tank), 1 and 2 inch control valve can choose QC quick connect control valve body
• 2 to 6 tanks of equipment can be connected in parallel, optional low-salt alarm, cloud network monitoring